F.F.C.C. Universitarios San Simón


Important Information 
Founded: November 22, 1993
Comite Pro Bolivia member since: 1993
Dance : Caporales
Participants of the Oruro Carnival in Bolivia
Web Site (

Click Here

)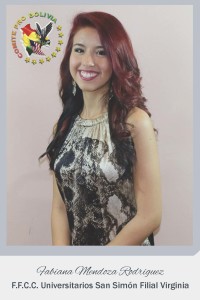 Having been part of Raices of Bolivia in 1988 , the November 22, 1993 as a result of an agreement concluded by its managers, under the direction of Mr. Victor Hugo and Ana Maria Rodriguez, was founded Caporales San Simon Subsidiary Virginia, in as a subsidiary , parent organization certified by the Cultural Folkloric Brotherhood of San Simon University Caporales ( FFCCUSS ) of Cochabamba , Bolivia . San Simon foremen , Filial Virginia, is currently the only fraternity in the metropolitan area of Washington DC , with credit and recognition of Caporales San Simon, Bolivia and is also recognized as the first international subsidiary or block.
Significantly, the completion of the Cultural Folkloric Brotherhood name Caporales University of San Simón, " Caporales San Simon Virginia " registered and approved in the officiating of the Trademark and Patent Office of the US as the only organization legally entitled to bear the name (Reg No. 3,976,5 )
Caporales San Simón Virginia, is a cultural association, which through dance foremen , transmits all the fervor and energy of a mistress own youth culture , keeping alive their traditions and transmitting to new generations the fundamental values ​​of this unique artistic expression.
Currently Caporales San Simon Virginia, is directed by: Alex Navia, President; Gustavo Mercado, Vice President; Daniel Velasco, Secretary General; Veronica Loayza, Maria Aguila R Ministry of Finance; Denis Rivera, Secretary of Kardex File; Press and Propaganda, Raul Torrico; Bruno Quinteros, Secretary of Sports; Denisse Salvatierra, Block Cholitas Guide; Paolo Peñarrieta Guide Block Boys. The dance consists of little more than 220 dancers, in the following structure: Block of children; Block Child and Adolescent; Achachis row; Machas row; Males row; Cholitas block; Juch'uy row and Block Men. Its activities over the years, including presentations and parades: The Majestic Carnival of Oruro (Bolivia); The Carnival of the Concordia (Bolivia); Cherry Blossom Parade in Washington DC; Strawberry Festival in West Virginia; Memorial Day Parade in Rockville Maryland; The stop in Philadelphia on July 4; The Peruvian festival in New Jersey; The Bolivian festival of New Jersey; Bolivian Festival in Virginia; Latino Festival in Washington, DC; Hispanic stop in New Jersey; Hispanic stop in New York, Halloween stop in Vienna, Virginia; among others.
Our Dance Team, was awarded 1st place in the contest Saya Caporal in Florida and for the 5th time , won first place in the contest Saya Caporal in Virginia , a competition organized by the Bolivia Pro Committee , constituted and the only fraternity that has earned this award on 5 occasions ( 2003, 2004 , 2005, 2006 , 2010).
Caporales San Simón Virginia, extends an invitation to all children , youth and adults living in the metropolitan area of ​​Washington to be part of our family in this management.